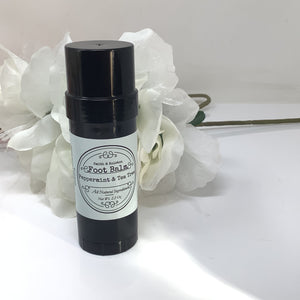 Peppermint & Tea Tree Foot Balm
Pamper your feet with our all-natural foot balm, specially formulated to soothe and nourish dry, cracked, and tired feet. Crafted from only the finest natural ingredients, our foot balm provides intensive moisturizing to help soften and revitalize your feet.
Choose from our two delightful scents: unscented for a pure and simple moisturizing experience or peppermint & tea tree for a refreshing and invigorating aroma that leaves your feet feeling cool and refreshed.
Our balm comes in a convenient twist-up container, making it easy to apply and take on the go. Perfect for everyday use.
Simply apply a small amount to your feet and heels during the day for nourishing and moisturizing care. For intense therapy, apply a generous amount before bed and wear cotton socks overnight to help lock in moisture.
Our foot balm is free from harsh chemicals and synthetic fragrances, making it safe and gentle for all skin types. So why wait? Treat your feet to the natural care they deserve with our all-natural foot balm today!
Peppermint & Tea Tree
The peppermint and tea tree essential oil blend has a refreshing and invigorating aroma that is crisp, clean, and herbaceous, with cool and soothing undertones. The peppermint oil will provide a light cooling sensation.
 


Ingredients Unrefined Shea Butter, Unrefined Cocoa Butter, Organic Coconut Oil, Almond Oil, Calendula Oil Extract( Extra Virgin Olive Oil infused), Beeswax, Tea Tree Essential, Oil Peppermint Essential Oil ( Unscented No Essential Oils will be added)