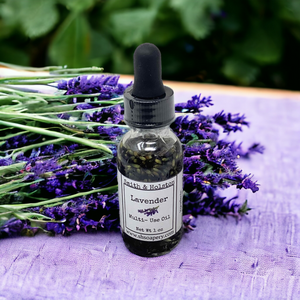 Lavender Multi- Use Oil for Face, Hair and Body
Our Lavender-infused body oil is the perfect multi-purpose solution for those seeking all-natural care for hair, nails, and body. With a few drops of this all-natural oil, you can transform your self-care routine in various ways:

Hair: Enhance your hair's health and shine by applying a few drops to damp hair, focusing on the ends. Achieve a natural, lustrous look or use it as a leave-in conditioner.

Nails: Promote nail growth and moisturize your cuticles with this nourishing oil. Your nails will thank you for the extra attention and care.

Bath: Elevate your bath time by adding a few drops of our Lavender-infused body oil. It not only imparts moisture but also a delightful aroma, turning your bath into a soothing spa experience.
Body: Use it as a daily moisturizer to soften and condition your skin.

This unique body oil is enriched with Lavender essential oil (Lavandula Officinalis) and features dried Lavender buds. The Lavender infusion provides a heavenly scent, leaving your skin delicately perfumed.

Net Wt 1 oz (Glass Bottle)

Ingredients: Sweet Almond Oil, Argan Oil, Jojoba Oil, Grapeseed Oil, Fractionated Coconut Oil, Dried Lavender Buds, Lavender essential oil (Lavandula Officinalis)

Directions for Use:
Nails: Apply a drop of oil to each nail and massage into the cuticles. Use daily for stronger and healthier nails.

Hair: Warm a few drops of oil in your palms and apply to damp hair, focusing on the ends. Style as desired. Can be used as a leave-in conditioner or for added shine.

Body: After a shower or bath, massage oil into your skin to moisturize and soften. Pay special attention to dry areas like elbows and knees.

Caution: For external use only. Avoid contact with eyes. If irritation occurs, discontinue use. Store in a cool, dry place away from direct sunlight. Keep out of reach of children.

Enjoy the benefits of this versatile oil for your nails, hair, and body!
Net Wt 1 oz Glass Bottle
Lavender Ingredients: Sweet Almond Oil, Argan Oil, Jojoba Oil, Grapeseed Oil, Coconut Oil, Lavender Buds, Lavender essential oil